About Biriney
Who is the real person behind "Biriney"?
Biriney, a fantasy word from childhood, became Barbara Löschner's pseudonym for her artistic work.

As a qualified interior designer she approaches her artistic work with the utmost passion. 
She has been creative for as long as she can remember. Even as a little girl, she was gushing with ideas, and even the most unusual materials weren't safe from being snatched up when she was around.

She remains just as curious today and has acquired a multitude of techniques for her work in courses, academic studies, internships and independent research. Her inspiration also comes from a wide-ranging interest in design, exhibitions, cultural events and research travel.

When asked about artists who made an impression on her at an early age and continue to shape her practice today, she names Gaudi, Hundertwasser, Macke, Matisse, Malgorzata Chodakowska, Paula Modersohn-Becker, Gabriele Münter and - not to be left out - Niki de Saint Phalle.
Saint Phalle in particular inspired her to start doing in-depth work with three-dimensional representation of the feminine body.  She has created intensive model studies in wood, clay, plaster, wire, papier mâché and mixed media. Years of experimentation have led her to develop her own construction technique based on a wood mâché mixture of her own invention. Besides unique figurines made from wood mâché and weatherproof synthetic resin, she also designs series figurines, which are produced from various materials.
"The diversity of shapes in the human body with all its different expression constantly fascinates me anew. For me, there is no definition of a beautiful body. What's important is its direct impact and the ability to perceive a living soul. Imperfections often have the greatest appeal," says Biriney.

Composing the colours of her figurines presents a further challenge.
The time-consuming, colourful painting of the Nanas often takes many weeks. The colours are applied carefully over each other in numerous layers until they are intense and radiant.
In the process of painting, Biriney takes great pleasure in researching the interaction and interplay of different colour compositions and designs.


Her colourful figurines, like the Nanas of Niki de Saint Phalle, radiate a joie de vivre.

It is this joyful, life-affirming self-assurance, combined with a tongue-in-cheek sense of humour, that universally speaks to everyone who sees her work, young or old.

Biriney considers it important, however, to make sure that everything she creates is a distinctive work that expresses the style she has striven to develop. Often her creative process is also born out of a dialogue that emerges between herself and the commissioner of an artwork.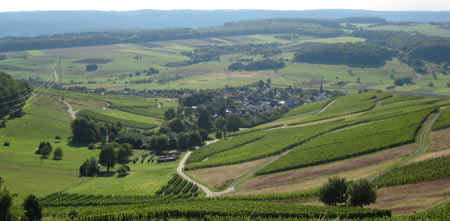 Biriney lives near Trier together with her family in a historic property in Konz. Here, in the triangle between Germany, Luxembourg and France in the beautiful countryside of the Saar-Mosel region, she draws motivation, strength and inspiration to devote herself to her work.
In her portfolio, you can see a small selection of works from recent years.
If you are interested in buying a figurine, just follow the link "Go to Shop".

The name Biriney® is copyright protected, and is a registered trademark with the German Patent and Trademark Office.